Your solar power system is already costing an arm and a leg, so why consider adding another component to your already expensive system?
The solar combiner box is a component you may not want to skip. Compared to all the other spendy equipment, the combiner box is not all that expensive but gives your system many added benefits.
If you need help getting started with understanding solar power and its related components, check out my Solar Power 101 guide.
Lets take a look and see why you want to consider a combiner box for your solar setup!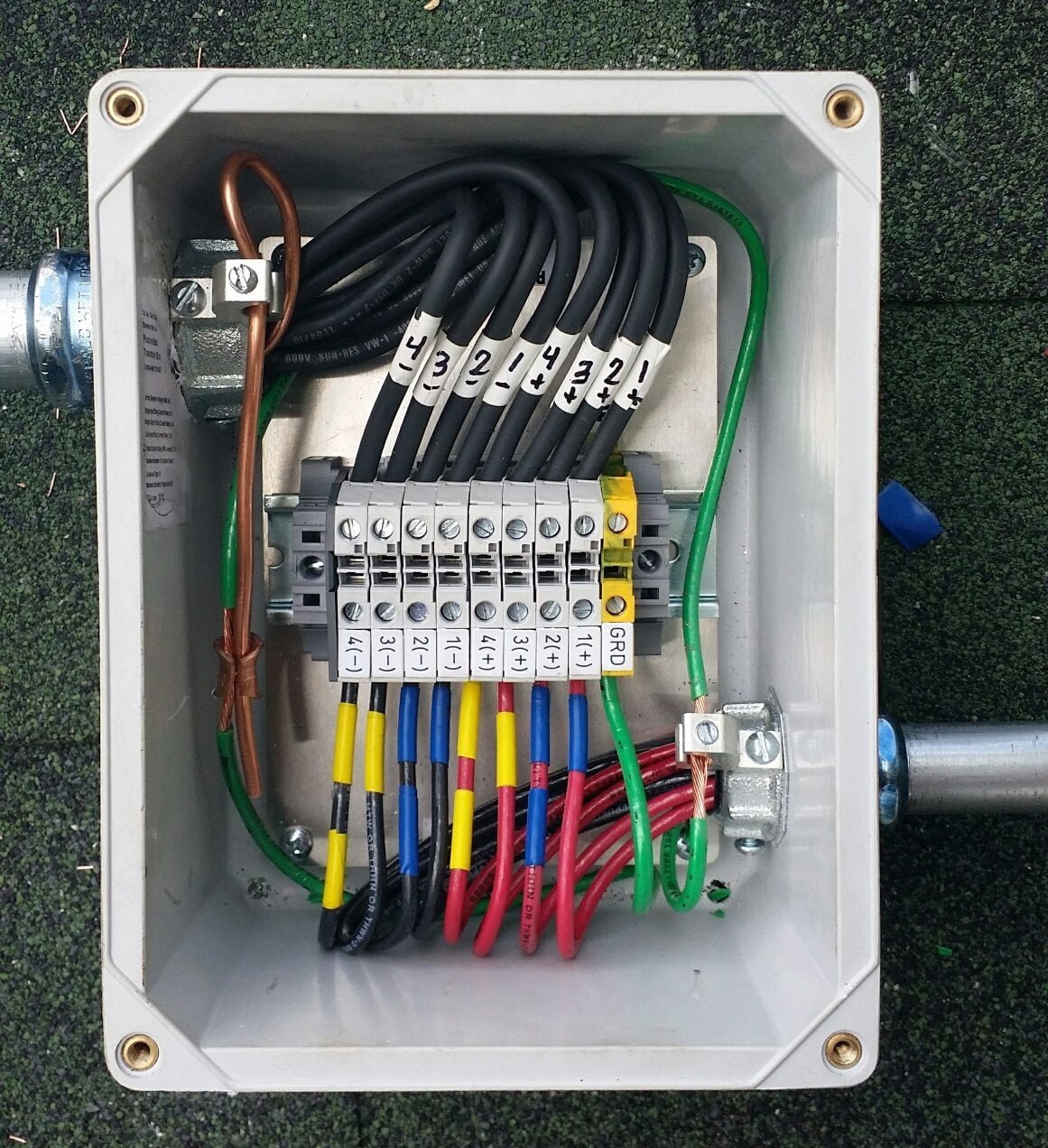 What is a Solar Combiner Box?
The role of the combiner box is to combine the strings from the solar panels into one box. Each string is attached to a fuse terminal; the output of the fuse terminals is combined into a single cable that connects to the inverter box.
This is the most basic role of the combiner box, but many more helpful features can be added such as a rapid shutdown switch and monitoring equipment.
The combiner box is placed between the inverter and the solar panels. The placement must be a priority for the box as improper placement can result in loss off efficiency of power.
Combiner boxes are not necessary for homes with up to three strings but having a combiner box provides many advantages to any size system, not matter how small.
Why Get a Combiner Box?
The benefits of this component far outweigh the cost for one! Let's say you have a three panel solar setup. Those three strings will be routed into the inverter box. This makes for an easy point of installation, disconnection, and maintenance.
The box consolidates the amounts of cables running into the inverter. Less cables equals more savings on material costs and labor costs.
You also are adding enhanced protection to your inverter by installing a combiner box. These boxes provide protection from overvoltage and overcurrent flowing into your inverter.
The combiner box, when properly placed, can actually enhance the efficiency of your system!
The combiner box will be an unlikely component to break or wear down and should last for the entirety of the project. You will want to occasionally check for loose connections as you would with all of your solar power components.
Installation input and output is rather simple as most combiner boxes come with a whip these days. The cables from the panels are easily plugged into the box with a mating solar connector.
Alright I've Convinced you: What to Look for When Purchasing a Combiner Box
Do not skimp on quality when purchasing! This component is a critical piece as it is the first unit connected to the solar panels. A failing combiner box can be dramatic and can cause smoke and fire. Make sure to purchase a box that is UL471 certified.
Also, consider the technical requirements of your system. Make sure it has enough fuse terminals to accommodate your panels. Also, be sure that it can handle the voltage requirements for your system.
Let's look at some products!
Recommended Product:
ECO-WORTHY 6 String PV Combiner Joint Box & 10A Circuit Breakers for Solar Panel
The Eco-Worthy company has been around since 2002 and was founded by eco-centric engineers. They have a forum on their website and a learning center to help with your setup.
This particular solar combiner box is known for its rugged housing and has a well-organized internal system. The manufacturer provides instructions and the setup can be compared to plug and play.
This combiner box can handle up to 6 strings, but you can still use it if you have less. This allows for later expansion if you choose to do so. If you have more than 6 strings, you can purchase 2 boxes.
The reviews for this box are very good. Customers are overall satisfied with the product except for a few minor details, this combiner box should do the trick for your solar installation.
Recommended Product:
Midnite Solar Mnpv12 Photovoltaic Combiner Box – 12 Breakers
Midnite Solar's owner has been working on engineering products since the 70s and is the largest manufacturer of combiner boxes in North America. Many of their products are manufactured in their Arlington, WA facility, which is nice to see some Made in America products on the shelves!
This combiner box comes with diagrams and is simplistic to install, however, circuit breakers and fuses have to be purchased separately. The structure of the box is solid and the inside of the box is very roomy to accommodate all the components for installation.
The box is designed for each string to be run separately, as the holes are quite small. You may have to drill in additional holes.
Overall, the box gets thumbs up for its high quality design and the user reviews reflect this. Although a few people have been bothered by the lack of holes and the size of them.
Busbars can be combined or separated to support 2 inverters or charge controllers.
Can support two inverters of up to 5 strings each, or a transformerless inverter of up to 5 strings.
Recommended Product:
MidNite Solar MNPV6-Disco Combiner
Another high quality product from Midnite Solar (and Made in America too), this box can be configured for use in many ways. It includes a bus bar for a 6 string disconnecting combiner. Install (not included) DC breakers to make a nice grid tie disconnect. The box has a warranty of 5 years and is listed by the ETL. The box has a solid construction with an organized internal system. The few reviews that have been left are all 5 stars with accolades.
Midnite Solar is well known for its solar combiner boxes and has a very good reputation as a solar manufacturer.
In Conclusion
For less than a couple hundred bucks, a solar combiner box provides many perks to your solar power system. Less cables, better efficiency, emergency disconnect, and enhanced protection, phew! Who wouldn't want to install one of these!
Not only do they provide all of these benefits, they are easy to install as well.
Enjoyed this article? I hope so! I put a lot of effort and time into researching and providing the most up to date information about products, services, and knowledge across a variety of topics in order to help you get independent from the system! Please feel free to leave a question or comment below.