Our personal water usage is quite high here in the states. According to USGS, we use on average 80 to 100 gallons per person on a daily basis!
Many of those gallons are wasted by running water waiting for it to get hot. Nothing beats watching fresh potable water run straight down the drain.
All of this wasted water costs money, tacking on dollars to your municipal water bill.
There is a solution, however. You can install a hot water recirculating pump, joy!
These special pumps drastically reduce the wait time and waste of waiting for hot water.
In this article, I go over the best hot water recirculating pumps on the market and give you solid information about these pumps.
Let's get into it!
Don't feel like reading? You can watch my video instead!
---
On this page:
Part One: Hot Water Recirculating Pump Reviews
Part Two: Hot Water Recirculating Pump Information
Hot Water Recirc Pump Product Comparison Table
---
Best Value:
Watts Premier Instant Hot Water Recirculating Pump System
---
Pros
Very easy to install with all included hardware
Pump withstands hard water and is built to last for many years
Hot water within five seconds of turning on faucet
Cons
Lukewarm water out of the cold faucet for a few seconds
Not compatible with water heaters with heat traps
Customer support is slow but eventually follows through
---
The Watts 500800 Hot Water Recirculating Pump is an excellent pump as it comes with all the hardware you need.
The installation process is also very simple, just install on your water heater hot water discharge. Then install the sensor valve at the farthest faucet.
Watts has high customer reviews for the quality of the product. Many say that it lasts for years, even in extremely hard water conditions.
The pump runs quietly and has a built-in timer, another component that you do not have to purchase separately.
A couple of things to note is that if there is a power failure, the timer will need to be reset.
I would recommend plugging in the pump to a smart outlet that can be accessed remotely via wifi.
This pump is not compatible with all water heaters, namely tankless water heaters and water heaters with heat traps as there is an incompatibility with the nipple connectors on the trap.
The manufacturer claims that you can save up to 15,000 gallons of water per year with this unit. Your results will vary but water savings will likely be in the thousands of gallons.
The pump itself is nearly silent, but some users have complained that it takes up to 30 minutes to heat the water through the return line. Make sure to plan in advance when the timer turns the pump on.
There have been some complaints that support is not great from this company, but they will follow up eventually.
Overall, the Watts pump is a great choice, just make sure that your water heater is compatible before buying.
You can download the Watts 500800 manual here.
---
Best Undersink Pump:
Laing ACT E1 Undersink Recirculating Pump
---
Pros
Compact design fits nicely under sinks and in small spaces
Very little power usage at 14 watts
Has a built in thermostat to regulate temperature
Cons
The price is spendier than other pumps
Lukewarm water out of the cold faucet for a few seconds
Reports of broken impeller upon arrival
---
The Laing ACT E1 recirculating pump is a perfect choice for under-sink installation as it is compact and lightweight.
The pump only emits 30Db of sound, making it one of the quieter pumps.
The manufacturer touts that the pump will eliminate up 17,000 gallons per year of water waste for a family of four. That is quite a lot of water saved!
Although spendy, this model does have a built-in timer which will save some money. It also has a built-in thermostat that cuts off power to the unit, therefore adding to power savings.
Estimates to run this pump are about $12 per year, so keeping it on all the time won't break the bank.
People having trouble with faulty equipment have received excellent customer service and quick replacements.
There have been reports of a broken impeller within the unit, so make sure to check the components for installation.
Overall, the unit is very good for its compact design, excellent customer service, and built-in thermostat.
You can download the Laing Act E1 manual here.
---
Best with Tankless Water Heater:
Laing AutoCirc E10 Series Recirculating Pump
---
Pros
Compatible with every tankless water heater on the market
Runs super quiet
3 seconds to hot water
Cons
Some users report of leaks
Have to wait for cold water
Price point is very high
---
The Laing Autocirc E10 Series pump is the only pump on the market that is compatible with all tankless water heaters.
Although it is expensive, the quality is high and the pump is reliable.
The pump is easy to install right under the sink of the farthest faucet.
Some users have had problems with leaks and others report that their cold water does run a bit warmer.
You will probably have to wait for cold water instead of hot water!
Overall, this is an excellent hot water recirculating pump specifically designed for tankless water heaters.
You can download the Laing AutoCirc E10 manual here.
---
Top Choice:
Grundfos GRU-595916
---
Pros
Instant reliable hot water within seconds
Trusted brand known to last for many years
Runs so quietly its hard to tell that it is even on
Cons
Does not have a thermostat, will run when timer is set to on
Warranty not covered through Amazon, but Amazon will replace product
Lukewarm water for 10-15 seconds on cold
---
Grundfos pumps are well known for their durability and can last for many years. One user reported that his Grundfos pump lasted an astonishing 24 years!
This pump will do the job it was built for and runs so quietly it's hard to tell that it is even on.
The Grundfos pump installs exactly like the Watts pump and is a direct competitor. This pump is more expensive than the Watts pump, but the reviews are higher.
Grundfos also offers a longer warranty period.
That being said, some users have had issues with the warranty being honored. Amazon will ship a replacement if the product is faulty.
Other users received the pump broken upon arrival, so check all parts thoroughly before installation.
Overall, this pump is spendier, but the Grundfos brand has an excellent reputation and the pump follows suit.
You can download the Grundfos GRU-595916 manual here.
---
Best Buy:
Taco 006-B4 Bronze Circulator Pump
---
Pros
Extremely durable and reliable
Has sweat valves instead of threaded valves
Direct-Drive lower power consumption cuts power usage
Cons
Does not have a built in timer
Pump tends to run hot
Sometimes ships with wrong valve
---
The line of Taco pump products is well known for its workmanship and durability. One user says that his pump has lasted 38 years before needing a replacement!
I give this pump the best buy because of the high remarks from customer reviews, strong customer support, low price point, and its sweat valves.
I also like that the design is more compact than other pumps and is made of bronze.
This pump uses sweat valves instead of threaded valves, which has a tendency to leak much less than its threaded counterparts.
The unit has replacement cartridges so if something did break, you can swap out the cartridge as opposed to purchasing a whole new unit.
This pump does not come with a timer so I recommend purchasing a smart outlet so you can set it up with your phone.
Users report that the unit does run hot which is normal so don't be alarmed.
This pump is installed on the dedicated return line. This means you will need a return line and also have access to the line. This could be a barrier to some so make sure it works for your setup.
Overall, the Taco bronze circulator pump is highly durable and is an excellent standard choice for a pump.
---
Recommended Products:
Sharkbite Water Heater Installation Kit
The Sharkbite fitting makes installation a snap. Connections are done easily in tight spaces without the need for glue or solder.
Make sure to check the connector size and order the appropriate piece.
Gosund Mini Wifi Outlet
These little plugs are awesome! You can control your outlet from your phone, anywhere in the world.
You can set the timer, share with others, and make a schedule.
Just plug it in, install the app on your phone, and follow the instructions.
This will work great with any pump of your choosing and is very low in price.
Part Two: Hot Water Recirculating Pump Information
---
Is a hot water recirculating pump worth it?
Yes, a recirc pump is absolutely worth it if you are waiting several minutes for hot water.
If your wait time for hot water is 30 seconds or under, then it probably isn't.
There are several reasons to purchase a recirculating pump:
You want to conserve water
You want to lower your water bill
You are sick of waiting minutes for hot water
It can help prevent your pipes from freezing
If you are on the fence about getting a recirc pump, check out my pros and cons section.
How Does a Hot Water Recirculating Pump Work?
A traditional water heater works by heating the water in the tank with heating elements and then pushing the water through the heat-out pipe.
This centralized system causes lag time and wasted water.
The hot water recirculating pump provides practically instant hot water to the tap by recirculating hot water within your pipes so when you turn on the faucet hot water is released immediately.
The hot water is recirculated through the cold water line which means you will have lukewarm water for about 10-15 seconds when running the cold water.
Different Types of Hot Water Recirculating Pumps
There are 4 types of hot water recirculating pumps:
Dedicated Return Line –
Pump is installed on the cold return line. The pump circulates hot water through this line and is released back into the system when the faucet turns on.
Not the best choice for users that cannot access their return line or has no return line. Usually the cheapest hot water recirc pump.
Under-Sink Installation –
Pump is installed under the farthest faucet in the house and circulates hot water back through the lines. Make sure you have an outlet under your sink before installing.
Tankless Water Heater –
Pumps specifically designed for use with tankless water heaters. Usually the most expensive hot water recirc pump.
The pump works by using a temperature sensor and a check valve that keeps water from entering into the return line.
The pump then moves room temperature water back to the water heater. The sensor notifies the pump when the hot water has arrived at the farthest fixture and therefore shuts the pump off.
Hot Water Heater Discharge –
These are the most common type of hot water recirc pump and are very easy to install. These install right at the water heater on the hot water discharge.
A sensor valve is then installed at the farthest faucet from the water heater.
Pros and Cons to a Hot Water Recirculating Pump
Although a recirc pump sounds great, there are some pros and cons you need to consider before purchasing one.
Pro #1: On-demand hot water
Hot water is recirculated through your pipes, giving you on-demand hot water.
This is a great feature for people who have to wait longer than 30 seconds for hot water.
Pro #2: Less wasted water
Not having to wait for hot water equals to many thousands of gallons of water being saved.
How many gallons could a hot water recirculating pump save? According to manufacturers, up to 15,000 gallons per year! That's a whole lot of showers!
To me, that figure seems quite optimistic. There are studies done that debate this kind of savings, some saying as low as only 500 gallons saved per year and others claiming 5,000 gallons.
Usually, the truth lies somewhere in the middle, so an average home will probably save between 5,000 to 10,000 gallons per year.
You can read this interesting article about how much water is saved.
Pro#3: Easy installation
Even if you are minimally handy, this type of pump is extremely easy to install and does not require any special tools.
Pro #4: Works great for large houses
If you live in a large house, waiting for the hot water to come can feel like an eon.
Heat loss is also a concern for the hot water to have to travel such a long distance.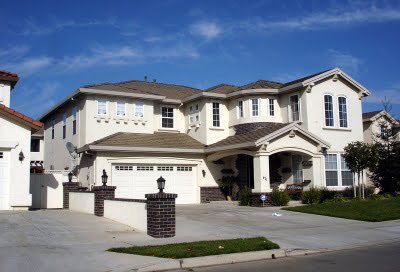 Using this pump can save you a massive amount of water and if installed with a timer can save you on heating costs as well.
Con #1: Higher electricity consumption
Since the hot water recirculating pump always holds hot water in the pipes, this will cause an increase in your energy usage. The pump will always circulate hot water in exchange for your beck and call, but the give and take is an increase in your electric bill.
I will note that this increase is not too substantial, but could add up over time.
However, there is a very easy remedy to this dilemma! Placing your pump on a smart outlet is a simple and affordable solution to this problem.
Some pumps come with a built-in timer, but those timers are not quite smart enough to make the cut. If the power goes out, you will have to reset the timers manually.
This is where the smart outlet comes into play. Just plug in your pump to the smart outlet and set the timer from your phone.
You can also insulate your pipes if you have access to them.
Con #2: Corrosion
Water chemistry and aggressive flow velocity can cause the recirculating pipes to corrode quickly. This corrosion is usually concentrated in bends and angles.
If this becomes a problem, the only solution is to reduce angles in piping and slow the flow with a lower capacity pump.
Con #3: Another component to fail
When you start adding more components into your system, it is yet another point of failure.
The recirc pump is no different. The motor can burn out, impellers can break, etc.
Purchasing a reliable pump with good reviews from a reputable brand can help circumvent this.
Cost of hot water recirculating pump
The cost of a recirc pump can vary greatly depending on the type of model you purchase:
| Pump Type | Price Range |
| --- | --- |
| Dedicated Line Pump | $75-$160 |
| Hot Water Heater Discharge Pump | $200-$300 |
| Undersink Pump | $200-$300 |
| Tankless Water Heater Pump | $350-$500+ |
Using a Hot Water Recirculating Pump Off Grid
This type of pump can really help out in an off grid situation where water resources are scarce. It will be essential to have your pump on a timer, and even better yet, a sensor.
If your system is not "smart", you can easily deplete your solar electric resources.
A typical hot water recirculating pump takes an average of 30 watts to run per hour which could add up if left on consistently.
For a 100 watt solar panel, that would eat up 1/3 of its electricity output hour by hour.
I would suggest making your pump as smart as possible to minimize energy consumption.
You can check out my article on how to build an off grid water pump system for ideas about using pumps for off grid systems.
Making a Hot Water Recirculating Pump Smart
Although many of these pumps come with a built-in timer, it just doesn't quite make the pump smart enough to limit energy usage.
Luckily, making a recirc pump smart is a cinch and is cheap!
My recommendation is to purchase a programmable wifi outlet. You can control this outlet with your smartphone.
Just plug into the outlet that you intend to plug the pump into and download the outlet app. Simple!
Conclusion
Hot water recirculating pumps are great if you have to wait a long time for your water to get hot. Do not expect to save money on electricity, but expect to save lots of water.
Even if your pump has a timer, I suggest putting it on a smart outlet so you can have more control over your pump.
Make sure to get the right pump for your water heater. Very few recirc pumps are compatible with tankless water heaters.
Hi, I am Regina, the creator of Maximum Off Grid.
My goal is to teach you how to become more self-sufficient, no matter how small the change.
Please feel free to reach out to me with any questions or comments.
Have a great day!
Regina Ferrari